Time flies...
Is thursday...
Time past so slow fast....
Weekend coming...
Yesterday is 23rd Feb, 0223
Is Mah CC birthday!
We have a small birthday celebration at Pizza Hut...
Attendants: Mah, me, Kang Wai, Garrett, Tat Ming, Hua Jian, Han Cheong and Sim
We finish our meal and chatting while waiting the cake to be serve...
Suddenly....
somebody transformed to Tissue Man...
Tissue Man No.1
Identity: Sim Teong Piao aka Valensim
Criminal Record: No.1 killer in Southeast Asia
Not one, but TWO people.....
TissueMan No.2
Identity: Mah Chun Chiat aka Ice Monkey
Criminal Record: Partner with TissueMan No.1
Hahaha....and finally the cake arrive
We sang birthday song to Mah, LOUD and CLEAR!!
People in Pizza Hut were looking at us...
But we ain't shy...Because we have nothing to shy...XD
From Jordan, by his Babie, Natalie...
"Wish Hubby Happy Forever"
This...belong to the birthday boy
haha...don't think or imagine
senget
so much....
Guess what he doing?
He make a long journey call to Jordan
And thanks his babie...
The reason he close his face is... There are 3 phone recording the scene...one infront, one left and one right...
And
SWEET MOMENT OF THE DAY
: MAH and TAT MING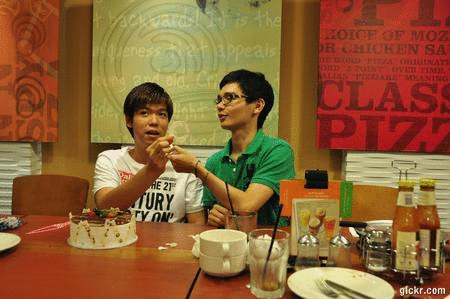 That the end of the celebration
Wish ah mah happy birthday, all the best
And the wish u wished will come true soon